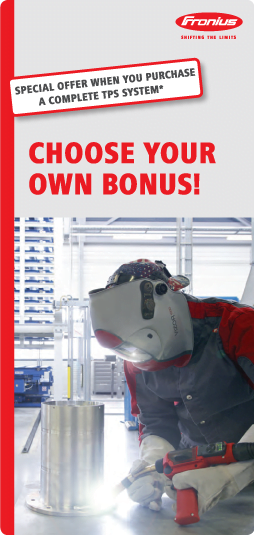 From April 1 until September 30, 2013, Fronius International is launching a six-month sales promotion for the tried-and-true TransPuls Synergic systems. The promotion applies exclusively to manual power sources in this product range. You can choose your preferred additional option from a selection of four great packages.
The launch of Fronius' digital welding systems caused an industry-wide revolution, sending out waves of excitement that still ripple today. Digital welding systems are now well established and have set new standards for perfection, reproducibility of welding results, user-friendliness and the variety of available peripheral devices. Digital TransPuls Synergic systems from Fronius are among the most popular products on the market.
What makes this promotion special is that you choose the bonus feature that suits your needs best. If you purchase a manual power sources in the TPS 2700/3200/4000/5000 range (excluding CMT), you have a choice of four different bonus packages.
Package I – Spatter-Free Ignition OR SynchroPulse Software
Package II – Up/Down Manual Welding Torch (AL/AW 4000 & 5000, excluding ML, PullMig and fume extraction torches)
Package III – Vizor 3000 Professional Auto Darkening Helmet. (Excludes Vizor Air)
Package IV – Split payment terms over 6 months.
Tempted by this great offer? Your Digitalweld representative will be happy to help.
Contact us on (0800) FRONIUS or (09) 2637099 to discuss.