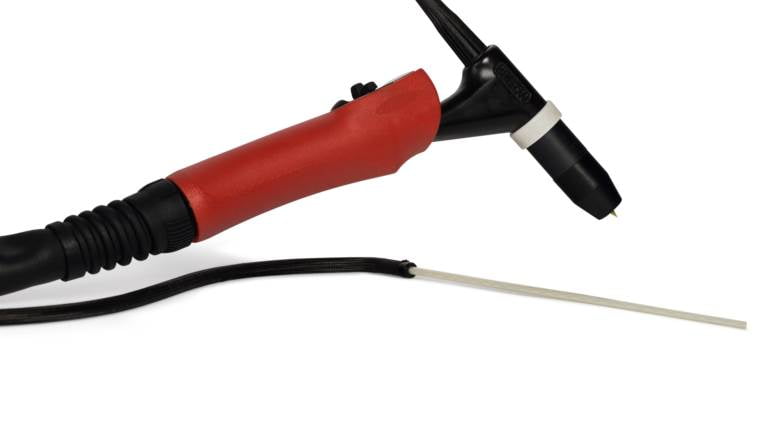 The Austrian welding technology specialist Fronius has further developed its Virtual Welding simulation platform
Virtual Welding provides the perfect environment in which to gain your first experiences with welding equipment. It consists of a terminal with a screen and a shelf on which the user places a plastic workpiece. A faithful replica of a real welding torch is then used to draw a virtual weld seam, which is reproduced in real time as a graphic on the screen. 3D glasses held in place by a headband give the user a realistic view of their work. As of now, the existing training functions for MIG/MAG, robot and manual metal arc processes have been joined by a Virtual Welding solution for TIG welding processes.
The new package contains a special TIG welding torch and a separate sensor, which helps teach the user to apply the optimum amount of filler metal. A total of ten training and simulation tasks are available, which can be performed on a variety of different workpieces. Here too Fronius has expanded the range of possibilities: joining the existing models for the execution of fillet welds, single-V butt welds, pipe-pipe and pipe-plate joints and melt runs comes the ability to perform three-millimetre thick square butt welds.
Significant advantages for welder training
Virtual Welding offers a whole host of major benefits for training and educational establishments. Beginners can learn about the welding systems and complete their basic training without any safety risks whatsoever. Furthermore, this is achieved without an expensive outlay on consumables such as metal, wire or gas. A mature didactic learning system comprising training and simulation sequences ensures a high level of motivation and enables rapid progress. Welding results are recorded and can be subsequently analysed and evaluated either directly on the terminal or on a PC if a network connection is available.
The function package for TIG welding is available for new Virtual Welding systems as standard. Existing models can be upgraded using an upgrade kit from Fronius, which customers can use to quickly and easily install the software themselves. An optional welding helmet with integrated 3D glasses can be ordered for the simulator, which is also available as a compact case for portable use.